Register Now!
CLICK HERE to register your interest in becoming a Homestay family!
Contents
Contact Australian Student Accommodation
For more information, please phone 07 5527 8688 or send an email using the form below.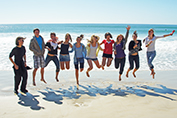 If you would like to register with us for Homestay students, please send us your details via the form below and download the Homestay Family Application form at the bottom of the page, fill out and either email, fax or post to us. Upon receipt of your completed application form, we will contact you to arrange an interview and home inspection at your convenience.
All Homestay families must hold a current Blue Card, and we can help you apply for or renew your Blue Card – there is no charge.